California's Great America Coupons, Savings and Theme Park Description for 2023

Spread out over 364 acres, California's Great America is a family's summer vacation come true! Packed with amenities, it will surely meet everybody's fancies! Looking for your traditional theme park? Look no futher. California's Great America has rides for all levels – from thrill seekers to family goers. Their most thrilling ride is the Gold Striker that boasts being the tallest and fastest wooden roller coaster in Northern California at a staggering 108.2 feet with speeds of up to 53.7. That is no joke! Looking for a ride that is more suitable for a family? Try their Flying Eagles, Star Tower or Carousel Columbia – all rated as a low-medium thrill level. California's Great America receives accolades for its Planet Snoopy – a perfect area for families to enjoy time together on rides such as the Woodstock Express or Sally's Love Buggies. Children will get a kick out of meeting the friends from PEANUTS™ - don't forget your camera! Looking for more kid fun? Don't miss the KidZville zone where you will find child-friendly rides including a mini bumper car adventure Fender Bender 500 amongst many others. If you're planning on bringing your swimsuit, you can bank on a variety of 11 water based amenities from the thrilling Screamin' Wombat with its crazy twists and curves to the Kookaburra Cay designed as a spray-ground for the little ones. Looking to relax and catch some rays? Cabana Village will be the perfect answer, complete with poolside cabanas and lounge chairs. Last, don't pass on California's Great America's dining options and live entertainment – more details on their website! What are you waiting for? Get tickets today!

Current California's Great America Printable Coupons and Savings for 2023
Share:
2021 Great America Season Passes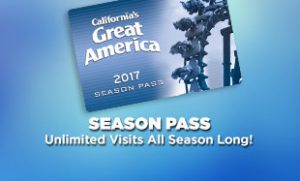 Regular Season Pass $71.00
Visit Great America as many times as you want with a Season Pass. Does not include parking or admission to Haunt and WinterFest.
Gold Season Pass $96.00
Enjoy unlimited visits to the park and Boomerang Bay all season long. Best of all, your Gold Pass includes Haunt, WinterFest, free parking, 20% exclusive discounts on select food and merchandise, early access times and more!
Platinum Season Pass $216.00
Enjoy all the benefits of the Gold Pass with the added benefit of enjoying all of those exclusive privileges at all Cedar Fair Parks across the country, including Knott's Berry Farm, Cedar Point and more!
Click here for more details!!!
Other Specials & Coupons:
To view other coupons and specials at Great America, go to their special page by clicking here.
Great America generally updates this page throughout the year, so check back to see if new specials and coupons have come in.
 Note to our visitors: Coupons and specials at Great America can change without notice. So please visit their official website to make sure of the latest pricing and coupons.
Map of California's Great America