Keansburg Amusement Park Coupons, Savings and Theme Park Description for 2023
Come and have fun at Keansburg Amusement Park by combining classic boardwalk memories with cutting edge technology. With the recent addition of 2 exciting rides, the amusement park is a real crowd pleaser. The MOBY DICK is an awesome ride the whole family can experience. The rotating platform whisks up to 24 riders high and away at increasing speeds. Perhaps the KITE FLYER will be the ride that makes that magical moment for you. Everyone are guaranteed to remember their very own simulated free flying experience. Try the DOUBLE SHOT that blasts riders nearly 100 feet in the air. The Chaos, Tornado or the Pharaoh's Fury will further dazzle your senses.
Need to entertain the younger crowd? The park also offers a huge selection of kiddie rides which include the Frog Hopper, Balloon Ferris Wheel, Sea Serpent Roller Coaster, Tea Cups and many more. As always, Tuesdays are Kiddie Days.
Who can resist taking a spin on our wheels of chance where we can still boast some of the lowest prices on the Jersey Shore? The arcade centers have all the bells and whistles from old fashioned skeeball to multi-techno arcade games.
Current Keansburg Amusement Park Printable Coupons and Savings for 2023
Share:
2021 Keansburg Amusement Park Season Passes
$149.00/person OR $447.00/family of four
Click here for more details!!!
Other Specials & Coupons
This offer is only good when purchasing bracelets in multiples of TWO. For every bracelet purchased, you receive a bracelet FREE.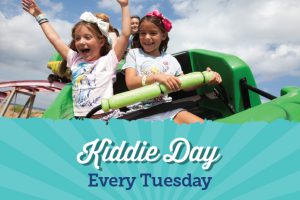 Unlimited Kiddie & Family Rides Bracelet
Friday Night Spring Madness 5pm-10pm
Click here for more details!!!
Keansburg Amusement Park  updates this page throughout the year, so check back to see if new specials and coupons have come in.
Note to our visitors Keansburg Amusement Park coupons and specials can change without notice. So please visit their official website to make sure of the latest pricing and coupons.
Map of Keansburg Amusement Park